Contact
Pacsai Fémhordógyártó Kft.
8936 Zalaszentmihály,
hrsz. 0105/12.
Phone: (+36)92/568-104
Send e-mail
Non-removable cover sheet steel with barrel
Non-removable cover sheet steel with barrel traditional and optimum discharge (ODD) cover
Capacity: 120 - 60 - 30 liters
The barrel of steel barrel is welded longitudinally, normal, double-ribbed (Figure 1) or densely ribbed (only 120 l in space) (Figure 2). The cover plate and the bottom plate are fastened to the mantle with a five-layer flat curl (Fig. 3) and a 120-ll version (Fig. 4) for the 30 l and 60 l volume versions. The 2 "filler and 3/4" air vents are located on the cover plate. The 30 liter version has only one 2 "loading slot and the lid can only be standard. Figures 5 and 6 illustrate the barrel cover design. The marking of the product according to the UN specification and the identification of the product is on the stack. The stacking height of the barrels can be 3 m. The names, main dimensions and markings of each barrel type are summarized in the table.
Name

Weight of
empty barrel
(kg)

Sheet thickness
(mm)

Diameter (mm)

Outer height
(mm)

UN code of the product





lid boden

skirt
bottom

inner D4


D3

outer D2


H3

120 Liter KF, BB, SB

10 +/- 0,4

0,8

0,8

450

464

464

820

UN 1A1/X1.4/250/év/gyárt.eng.sz.

60 Liter KF,BB

5 +/- 0,3

0,6

0,6

355

376

-

680

UN 1A1/X1.3/300/év/gyárt.eng.sz.

30 Liter KF,BB

4,2 +/- 0,3

0,8

0,8

315

329

-

456

UN 1A1/X1.8/300/év/gyárt.eng.sz.
Legend:
KF: painted on the outside,
unpainted inside
BB: painted on the outside, coated inside
N: normal double rib
SB: Dense ribbed mantle
D2: Container-sized reinforcing rib outer
diameter
Comment:
The closures in the DIN 6643 design are barrel accessories. The barrel can also be ordered
with an on-demand bar. KF and BB type products are 1 pcs
They are equipped with a 2 "filler opening and 1 3/4" air vent, with 30 l products with 1 2 "loading slot.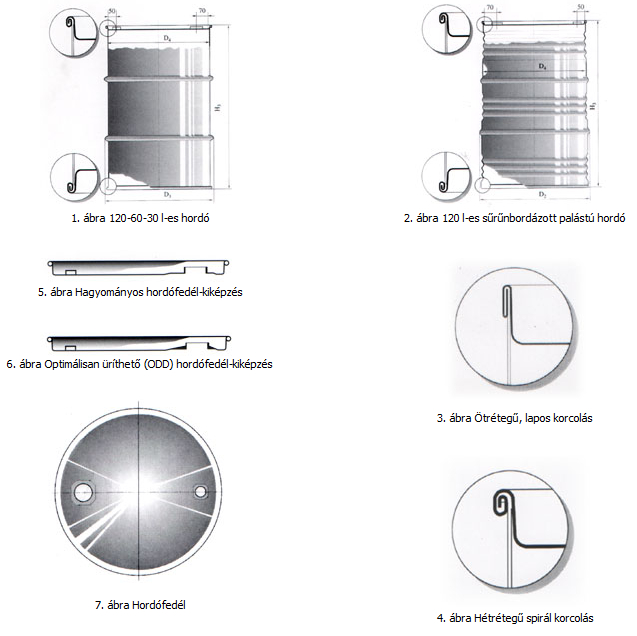 in unit:
The packaging is available on pallets of 1150 x 1150 mm, separated from each other by corrugated cardboard, covered with strech foil.
Quantity of packaging on unit unit:
- 120 l space size: 10 pieces / unit rack
- 60 l space size: 27 pieces per unit pack.
Packaging is available on 1000 x 1000 mm pallets, separated by corrugated cardboard intermediate, and covered with strech foil.
- 30 pieces of space for 36 pieces per unit pack.
«

Back to the previous page!